LARRY COHEN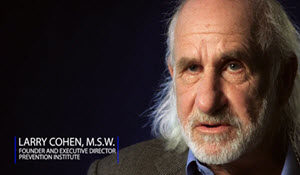 Larry Cohen, founder and Executive Director of Prevention Institute, has been an advocate for public health, social justice, and prevention since 1972. Larry established Prevention Institute in 1997 as a national non-profit center dedicated to improving community health and well-being by building momentum for effective primary prevention. The Institute's work is characterized by a systems approach to prevention, a strong emphasis on community participation, and promotion of equitable health outcomes among all social and economic groups. Prevention Institute has been recognized for its cross-cutting, innovative analysis and for its strategic skill in catalyzing and guiding cross-sectoral coalitions. Larry's founding vision has inspired a comprehensive, integrated approach that applies prevention principles to solving complex health and social issues across disciplines, promotes health in all policies, and views equity as a core component of all health decisions. These overarching principles unify Prevention Institute's endeavors in its primary focal areas-health equity, health reform, nutrition and physical activity, and preventing injury and violence.
Previously, Larry served as founding Director of the Contra Costa County Prevention Program, where he engaged the American Cancer Society and the American Heart and Lung Associations in forming the first coalition in the Unites States to change tobacco policy by passing the nation's first multi-city smoking ban. The coalition ignited other statewide and national efforts, including smoking bans on airplanes and restrictions in public places, restaurants, and workplaces. Larry also created the Food and Nutrition Policy Consortium, whose work led to a county food policy that sparked momentum for the U.S. food labeling law. He helped shape strategy to secure passage of bicycle and motorcycle helmet laws, strengthen child and adult passenger restraint regulations, and set fluoridation requirements in California.
Larry's past accomplishments, inspired by a commitment to diverse community leadership and to benefiting all, invigorate his current work. One of the major thrusts at Prevention Institute, reducing health inequity, threads through all of the focus areas. Recently, Larry co-authored A Time of Opportunity: Local Solutions to Reduce Inequities in Health and Safety for the Institute of Medicine Roundtable on Health Disparities and Good Health Counts: A 21st Century Approach to Health and Community for California. Larry facilitated the California Campaign to Eliminate Racial and Ethnic Disparities in Health and co-developed THRIVE (Tool for Health and Resilience In Vulnerable Environments), a Web-based tool that helps identify and foster factors in the community environment that will improve health outcomes and reduce inequities experienced by low-income populations and populations of color. Larry is currently engaged in a two-year project to develop, pilot, and disseminate a Health Equity and Prevention Primer as part of Robert Wood Johnson Foundation's national campaign to strengthen health equity capacity through public policy.
Prevention Institute is also leading state and national efforts to incorporate a focus on and investment in primary prevention as a significant part of health care reform. In collaboration with The Urban Institute, Prevention Institute and The California Endowment developed Reducing Health Care Costs Through Prevention, a composite of cutting-edge thinking by the nation's foremost thought leaders in prevention. It distills key concepts for supporting community health and using resources effectively and establishes a set of prevention strategies and provisions for health care reform. This report served as the centerpiece for a briefing at the California state capitol and has provided a springboard for national measures to document and promote the value of prevention-including PolicyLink's salient memo to Congress.
Larry writes and trains nationally on fostering healthy eating and active living environments, the Institute's core strategy for preventing chronic disease. Under his leadership, Prevention Institute facilitates Strategic Alliance for Healthy Food and Activity Environments, a California statewide coalition working to promote healthy eating and activity through changes in policy and organizational practices. Prevention Institute has developed tools to help communities achieve such improvements locally, including the Environmental Nutrition and Activity Community Tool (ENACT) and the ENACT Local Policy Database, which catalogs promising local policies that have been adopted to improve food and activity environments. On a national level, the Institute works with the Healthy Eating Active Living Convergence Partnership directing research and helping to shape national strategy related to policy priorities supporting healthy food and activity environments. The Convergence Partnership is a collaborative of America's leading health funders, including government agencies and private foundations.
Larry helped to define violence as a preventable public health issue. His publication Shifting the Focus is a California roadmap for related inter-sectoral government collaboration. Typifying Larry's cross-disciplinary prevention breakthroughs, his research and practice have captured the intersection of violence and chronic disease by identifying how violence negatively impacts healthy eating and active living environments. His work on gender-related violence emphasizes the importance of changing norms to reshape social environments that tolerate such violence. Larry currently heads UNITY (Urban Networks to Increase Thriving Youth through Violence Prevention), a national initiative designed to strengthen and support the 45 largest cities in the United States to more effectively prevent violence. Larry developed one of the first courses in the country on preventing violence for UC Berkeley's School of Public Health. He has authored several seminal texts, including A Public Health Approach to the Violence Epidemic in the United States, and Poised for Prevention: Advancing Promising Approaches to Primary Prevention of Intimate Partner Violence.
Larry is the lead editor of Prevention Is Primary: Strategies for Community Well-being, an academic text published in March 2007 by Jossey-Bass/Wiley and the American Public Health Association. He has also developed a variety of seminal tools, including: The Spectrum of Prevention, Prevention Institute's signature strategy tool for improving health outcomes; Developing Effective Coalitions: The Eight Step Guide, a framework for helping partnerships launch and stabilize successfully; and Collaboration Multiplier, an interactive framework for evaluating each partner's skills in multi-disciplinary coalitions.
Larry has received numerous awards, including the Injury Control and Emergency Health Services Section Public Service Award from the American Public Health Association, the Secretary's Award for Health Promotion from the U.S. Department of Health and Human Services, and recognition from the American Cancer Society and the Society for Public Health Educators. He received his MSW from SUNY Stony Brook.